Presentation
Commissioned in 1991, Yaounde Nsimalen International Airport is one of the two largest airports in Cameroon. Located in Nsimalen a suburb south-west of Yaounde and ranked 2nd airport given the number of passengers and cargo handled. Larger than the previous one, Yaounde Nsimalen International Airport was rebuilt to address the city's rapid growth problem. This former international airport now serves as an airbase for the air force of Cameroon.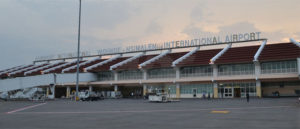 Yaounde Nsimalen International Airport flights
Yaounde Nsimalen International airport has 14 direct flights to 11 countries. With its national company Camair-co, it provides international and domestic flights to reach different cities of the country. On the technical side Yaounde Nsimalen International Airport covers 3,065 acres at an elevation of 694 m. Consequently its includes one passenger terminal, one cargo terminal and 6 aircraft stands. The airport currently has one runway: heading 01/19, 3,400 m (11 154 ft) in length, with a width of 45 m (147 ft) which could accommodate a B747. Additionally, the airport's growth of international traffic is 4% per year. For this reason, the government has set a goal of servicing 1.5 million passengers and 50,000 tons of cargo per year. In a word the ministry of transport has asked to develop airport for new targets which includes cargo facilities equipped with warehouse.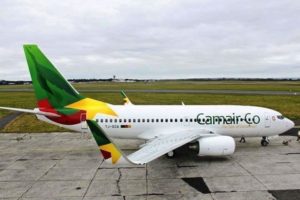 Security and Economic Level
In the first place security front, Nsimalen International Airport is equipped with modern facilities and can be accessed through 4 gates. It has 6 parking facilities, 2 of which are for long term use. Inside the terminal there are 10 check-in desks. A transit zone, animal quarantine, health office, X-ray/handling/mechanical equipment and refrigerated storage. There is post office and police office for all passengers if they wants to enquiry make statements or claims something.
Second in the economic and social plan, Yaounde Nsimalen International Airport has built his history . In order to satisfy and secure people there is currency post office where you can exchange money easily and secure. There is tourist information centre, business centre, banks, car rental and taxi services. If you want to take breakfast, lunch or dinner, you have restaurants in the airport open 24/7. If you don't have any reservation or booking you have Hotel services at the airport they provide free shuttles for pick up and drop off when necessary.