The weather in Yaounde !
Yaounde has a savanna climate with dry winter, there is better months to visit the city but temperatures are changing. The rainfall in Yaounde is much higher in the summer than they are in the winter depending on the time of year you prefer . Either autumn, winter, spring or summer, the climate in Yaounde is different depending on the season as per every country. Some prefer the rains, others the sun, or neither, but what is certain is that in Yaounde the climate is unfavorable five months out of twelve. The table below will illustrate what is the right time to visit the city according the weather in Yaounde.
January
Febuary
March
April
May
June
July
August
September
October
November
December 
V

ery good

V

ery good

G

ood

G

ood

G

ood

 

Unfavorable

Unfavorable

Unfavorable

Unfavorable

Unfavorable

G

ood

V

ery good
Weather Legend : Unfavorable, Medium, Good, Very good
As per the chart above, best time to arrive in Yaounde is between November to May. For example from December to February climate is good; in the early evening temperature is on average of 24°.  March, April, May and November, temperature is average and stay correct with occasional heavy rain. Furthermore, June to October for all those like heat it's not advisable;  the weather in Yaounde is unfavorable because the precipitations are cloudy and it rains abundantly. 
Illustration of Yaounde Cameroon Weather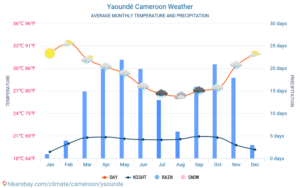 In conclusion, we advise you to choose driest months and visit the country obviously  is between November and February. Moreover during this period, you will probably be disturbed by harmattan, a hot wind loaded with sand from Sahara. The capital of Cameroon Yaounde owes its climate to the hills that run along the city. Thanks to them, you can observe the dense vegetation along the streets, which gives Yaounde a pleasant and fresh climate.