Introduction
Yaounde still called "city to the seven hills" welcoming and full of surprises offer a pleasant setting for all your stays. From the airport to the city center, you will discover a bright landscape from the multitudes of trees. It is very easy to find accommodation in this city because there are multitude of hotels which provide airport shuttle service for customers. It is in this logic that we will quote you in the next paragraph best Yaounde Hotels.
Best 3 of Yaounde Hotels
First of all you have the Hilton hotel in Yaounde located at Boulevard du 20 Mai in city center. Hilton hotel offers a pleasant setting for your stay in full board for family and friends. Listed in the top 10 of hotels in Yaounde, you have opportunity to move safely because hotel is guarded 24/7. Furthermore, there is severals in-house restaurants which offers local and international foods. Of course swimming pool and play areas for children and adults are available in the hotel to avoid boredom. Similarly if you wanna go out you can visit supermarkets 100 meters from hotel such as MAHIMA, SCORE . By the same token for any needs with family or friends, you always have solutions because Hilton hotel is right next Moulin De France coffee shop.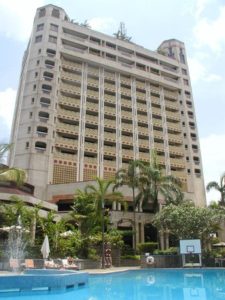 Second, in the top 10 of Yaounde Hotels comes Mont Febe hotel with its panoramic view of Yaounde on the heights of Mont Febe. This hotel is locate at altitude of 950 meters surrounded by lush greenery and luxurious. With its motto "Come back for fun"  Mont Febe Hotel has unique architecture and design offering luxury along with comfort. In effect, rooms offer a magnificent view of the mountain vegetation as well as the golf course of the city. It owes its presence in this classification because of the impeccable service that it offers with its restaurants and leisures. In addition this hotel offers easy access, secure because it's a presidency area and its 15 minutes from airport.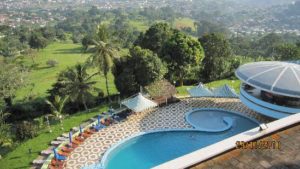 Thirdly we have Djeuga Palace Hotel on the list of Yaounde hotels with his pleasant setting and everything is there to feel good. Hotel location is in city center and has large rooms decorated with a living area, desk and safe. In addition to what you can find common hotels Djeuga Palace has a open disco for dance lovers. Near this atmosphere there is casino for lovers of gambling, and all theses three hotels fees start 65.000 XAF per night.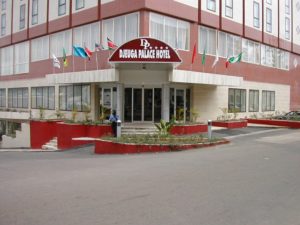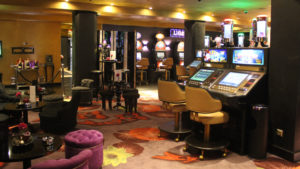 Others Hotels
However don't limit yourself to the three hotels mentioned above because i made it according to my visit in these places. The assessments are different, so its normal this list of 3 best hotels in Yaounde is not exhaustive. Under those circumstances you can find in the same city Yaounde hotels with same offers and service.
The difference is on the form with a limited number of rooms and on the bottom because the price is lower than others. As a result we have firstly La Falaise Hotel in Yaounde with Avenue Marechal Foch as a location. Secondly Merina Hotel Yaounde street El Hadj-Ahmadou-Ahidjo offers good quality time.
Thirdly AZUR Hotel Yaounde in Bastos district opposite Elecam which offer you a pleasant setting with equipped and luxurious rooms. Also we have Yaounde Central Hotel in city center heartquarters district of the ministries. Meumi Palace Hotel in the Bastos district, Diplomat Hotel street Joseph Mballa-Elounden. All these hotels offer a clean environment, a good service, friendly staff, and you are also entitled to international catering.